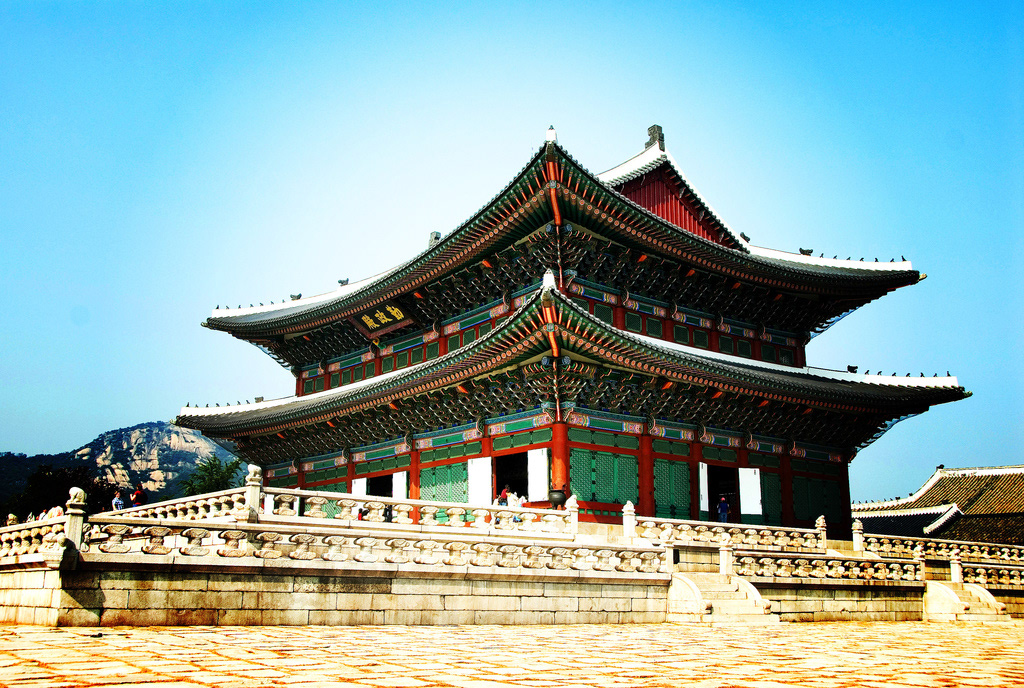 Korean palace takes visitors to storied past
Story and photos by David McNally
Stoic guards and officials march to the palace gate with colorful robes and traditional flags flowing in the wind. Another day begins for the reenactors of Gyeongbok Palace in central Seoul.
The city is home to five Joseon Dynasty palaces. But, Gyeongbok Palace is the centerpiece of Korea's royal past. The complex is a living legacy of 15th century Korea.
Extensive renovations over the past decade restored the palace grounds to a once regal air.
During most of the 1910-1945 Japanese occupation, a monolithic gray administration building stood within the palace gates blocking the view of the former home of kings.
For decades after the Korean War, the government used the building as an administration building and even as the National Museum of Korea; however, it was always a painful reminder of the occupation. After its 1996 demolition, Koreans began to restore the complex.
The palace was originally built in 1394, but much of it burned to the ground in a 1592 Japanese invasion.
In 1911, the Japanese only left 10 buildings standing as construction began on the Japanese administration building.
Today, there are 330 buildings on the palace grounds, including the National Folk Museum. Visitors are free to roam the complex.
The ceremonies of opening and closing the palace gate and changing of the guard happen three times a day every day of the year, except Tuesdays, or in the event of rain.
The Foundation for the Preservation of Cultural Properties is the Republic of Korea office with oversight of not only buildings and relics, but of the how Koreans used pomp and circumstance to rule the land.
The foundation restages historical ceremonies based on "careful and thorough historical investigations.
From November to February, the palace is open daily from 9 a.m.-7 p.m., and closed on Tuesdays. The entrance fee is 3,000 won for adults and 1,500 won for children.
To get to the palace, use the Seoul Subway System Line 3, and use Exit 5 at Gyeongbokgung Station.
Published at Army.mil http://1.usa.gov/W0b9N9